Some good ideas came out of the 1970s: the regulations and laws that created the Environmental Protection Agency; the launch of Ms. Magazine launched; the first riders boarded Amtrak…Then there are other ideas that probably should have stayed back in the decade that also brought us Watergate, Kent State, and Jim Jones.
Growing up primarily in Minnesota, I never heard of the "Scared Straight" program that was devised in the 1970s as an attempt to deter juvenile crime. My husband had to watch the Scared Straight movie in his Texas high school. The film documents a group of young adults (who arguably need serious redirection because of their behavior) who are visiting a prison to be scared out of criminal activity through their interactions with inmates, guards, and the system (note: I haven't actually watched the film.) OK, 1970s, early 1990s, maybe you didn't know any better, maybe you thought this wasn't a crazy stunt, maybe you just thought it would work…somehow.
Well it's 2020. I was shocked to see this announcement from the Bexar County Sheriff's office for Inside Look tours. Sounds innocuous – like a job fair where you learn about law enforcement positions or something. But NO – it "gives young people…a hands on opportunity to experience the daily life of inmates in the Bexar County Adult Detention Center. Tours include the opportunity to taste the food, wear shackles, and hear real life stories from inmates."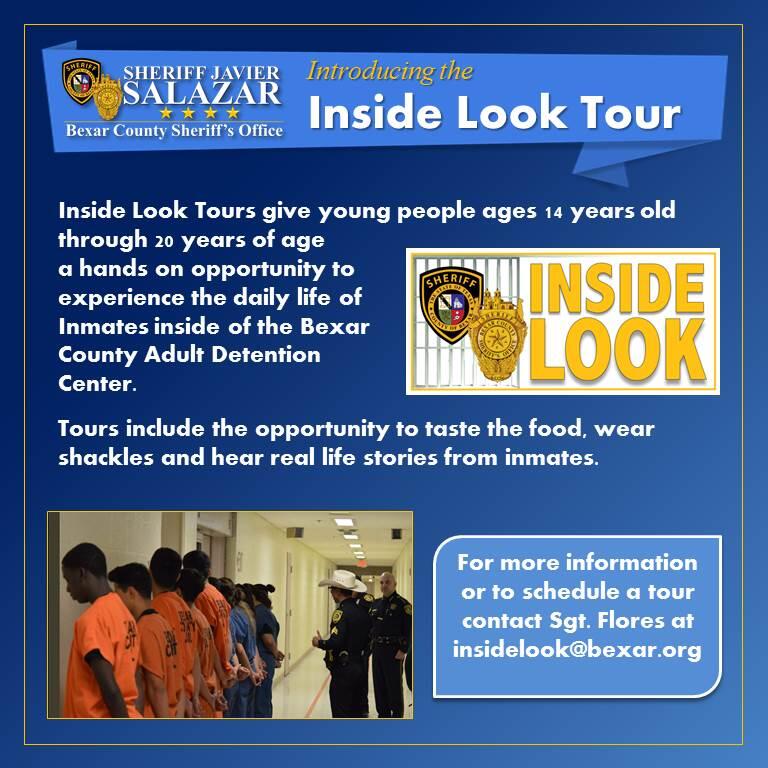 What the actual hell?!
In 2020, people have evaluated these deterrence efforts and "rigorous, peer-reviewed research has shown that at-risk youth exposed to such programs are more likely to commit future offenses and be incarcerated than their counterparts who don't participate." (from here) When you show kids that this is who you think they are likely to be, what kind of message do you think they internalize?
C'mon Bexar County, you do a lot of really interesting and good work around mental health and crisis intervention – please drop this awful. misguided, and ineffective program!